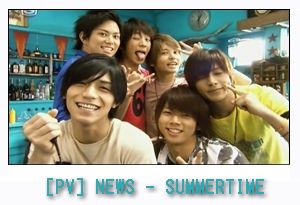 Title:
[PV] NEWS - SUMMERTIME
Size:
MPEG: 187MB - AVI: 87MB
Width: 704 pixels
Height: 396 pixels
Duration:
Bit Rate:
Audio Format:
Frame Rate:
Data Rate:
Video Sample Size:
Video Compression: DivX

MPEG Version*

Megaupload: [Part 1] [Part 2]
Mediafire: [Part 1] [Part 2]
Sendspace: [Part 1] [Part 2]

AVI Version

Megaupload
Mediafire
Sendspace

*Please use a joining program like HJSplit to join the files together.

Note:
akirashocksubs is working on subbing this. Once its complete, I'll be adding the link to their release in this post.